PRODUCTION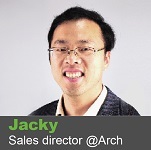 "If ARCH has met a continuous success during the last 15 years, it is because of 2 single words: competitive and flexible. We have the capability to adjust our production facility to the quality and price level expected by our clients!
I want my clients to pay the right price for the right quality! This is my commitment to them!"

After 7 years in the production of luggage and bags in China, ARCH has now the ownership of 26 production lines for a total capacity of 13 000 bags a day. We produce suitcases (soft and hard side) and soft bags (such as backpack, duffle, cosmetic bag and more!).
Our factories are located in one of the most competitive area for the production of luggage and bags in the whole China. Spread out between Zhejiang, Shanghai and Henan province, our productions lines offer flexibility to our buyers in terms of product types, price and quality level.
All of our production lines (except Henan's) are located half day away from Shanghai port and nearby fabrics and accessories suppliers to ensure fast delivery of your order.
Henan's factory helps us to provide you the cheapest price but it is also a way for ARCH to access to available work forces which are difficult to find now in Shanghai or Zhejiang area.
Our products may comply with all International standard such TOV, CSCV, SGS, TUV, ITS, REACH etc.
TAKE A TOUR!