PRODUCT CREATION
"I have been working a long time for one of the Samsonite factory, but what we are doing now with our on line catalogue is really unique in China! We are reaching a new level of service in terms of product creation that has never been done before! On top of it, we are providing also a real design facility for buyer who doesn't have the chance to collaborate with bags designer.
To bring you the best satisfaction in product design whatever it takes, it is my commitment to you!."
ONLINE CATALOGUE. A UNIQUE B2B EXPERIENCE IN CHINA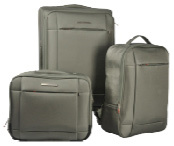 CHOICE
Suitcase, carry on, duffle, backpack, brief bag, cosmetic bag… with more than 200 products in our catalogue, you will find a large offer of luggage and bags from holidays to pure business usage,from basic to complex design, from woman to man, from single suitcase to a complete travel sets of bags!.
TRENDY
To bring you up to date products, we study and follow very closely the latest frends worldwide: best sellers, fairs and shows, trend forecaster.
BUYING LUGGAGE AND BAGS IN CHINA HAS NEVER BEEN SO EASY AND CONVENIENT!
Our online catalogue has been designed 100% to help you in your business and in the way you are working with us.
By creating your own profile, you can bookmark your favorite items, compare them, add them to your wish list and write your own comments for preparing your inquiry. You can access and follow up all your inquiries in a unique and comprehensive dashboard. Finally, you can save time in your inquiry with automatic fill in of your buyer information with our different forms.
A BUYING GUIDE TO HELP YOU FINDING THE PRODUCT YOU ARE LOOKING FOR
In order to help you in your decision of inquiry a product, Arch online catalogue proposes to guide you in your choice by providing a RANKING for each product. The RANGKING shows a notation about the PERFORMANCE of the bag (4 mains buying criteria: practical, ergonomics, durability, weight) and the COST of the bag.
The comparison PREFORMANCE versus COST gives a RATIO.The higer the RATIO is , the more interesting is the product and so the deal you make with ARCH.
YOUR BAG* 100% CUSTOMIZED AND ON-LINE!
Yes you read right! ARCH is certainly the only luggage and bags manufacturer in china who offers the option to customize your product on-line.
You can create your own set of items (sizes and additional bags). Add a name to your customization. And, you can especially change all the different parts of the bag such as trolley system, wheels, handle and much more!
And this is not all! While modifying the supplies of your bag, you can check "live" what are the impacts of your changes on the PERFORMANCE and PRICE of your bag.
With us, you can access to the optimum service in terms of assistance to the product definition and creation.
*for now, only available for trolley case.

ON DEMAND DESIGN. A REAL DESIGN FACILITY FOR YOUR PROJECT
Not satisfied with the product from our catalogue? Already have an idea of the product you want?
ARCH offers to make your idea coming true by collaborating with our French designer Guillaume Garait.
And we can make it FOR FREE. (See our canditions here!)
With the On Demand Design, you 've got the right product (style and performance) with the right price!