ON DEMAND DESIGN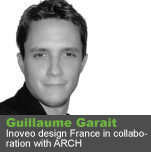 "What is a good design product?
Before I start designing a project, I must think first about the usage of the bag. A bag is a functional object. We use it everyday. It is like a partner in our daily life! Then, I must consider the style and bring the latest trends to the product!
Making people comfortable and happy with their bag is what makes a good design for me!"
INTRODUCTION AND CONDITIONS
SAVE YOUR TIME with A REAL DESIGN FACILITY!
Are you spending a lot of you time searching the product you need in show rooms, fairs…? Do you need design resources? Are you scratching your head for finding ways to reach your target price?
If you have answered yes to some of theses questions, then our «On demand design» is made for you!
With the On Demand Design, you can get the product you are looking for : performance, style & price.
To respect our promise, ARCH has set up a collaboration with a French bag designer. He will be the one bringing style and convenience to your product. About the price and so the cost of your product, you can trust in our 7 years of working experience in the bags and luggage industry for making the bag reaching your target price.
So, be comfortable and spare your time! You are in good hands, EXPERT hands!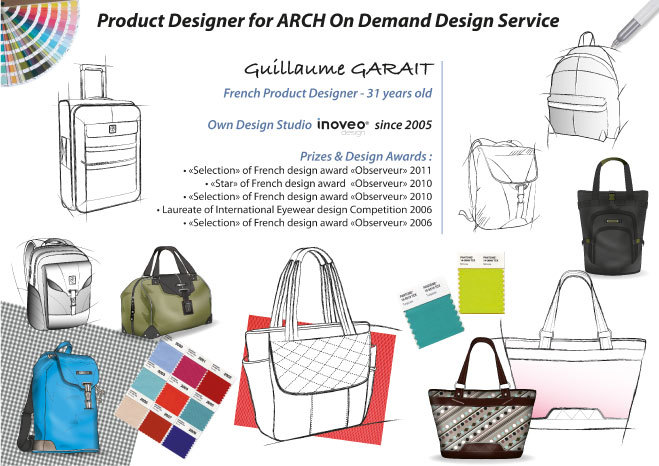 Our multi awarded product designer will be taking care of your product creation.
CONDITIONS
True and you know it!. Good bags designer are expansive because they need time to create good products.
After analyze of your profile and project, ARCH may offer our «On demand design» service FREE OF CHARGE. Yes FREE OF CHARGE! So, be very precise while detailing your project and buyer's information to us.
Tips: be 100% honest and transparent. Show us your motivation on making that project really happened.
SUCCESS IS A COLLABORATIVE WORK
YOU, the DESIGNER and ARCH
It's a team work.
YOU and only YOU…know what you need and want!
The more details you will give, the more accurate will be our design and so your satisfaction.
No one knows better than you do what your customers like!
No one knows better than you do about the product idea you have in mind!
The success of the «on demand design» is based on transparency and exchange. Therefore, ARCH will judge at first if your «demand» is clear enough before starting the design process.
SHANGHAI ARCH. INDUSTRIAL CO.,LTD
Address: No 80. Lane 4855, 80 Guang Fulin Road, Songjiang District, Shanghai, China PRC.
Phone: +86 (0) 21–3355 2277
E-mail: arch@arch-bags.com